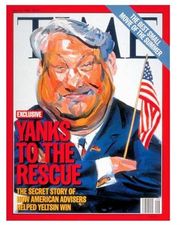 A Conflict Crying for Compromise
---------------------------------------------------
A Commentary on Gennady Mokhnenko
M o s c o w -- On his Facebook page and even on California-based Russian TV, Mariupol/Ukraine's Gennady Mokhnenko repeats the political positions typical for Ukrainian evangelicals. A cultural Russian and non-speaker of Ukrainian, this Pentecostal leader is the legal father of 30+ orphans and a military chaplain. He decries pacifism and regularly portrays himself in camouflage.
According to this political slant, evangelicals expressing basic loyalty to the Kremlin are conformists. Ukrainian evangelicals, though they serve in this highest government offices (Turchinov) and receive medals from the country's political leaders, are essentially non-conformist and free. Those expressing understanding for Russian geo-strategic positions are "Kremlin-funded", though in truth many on both sides of the political divide in Eastern Europe get their pay from Western sources.
Pro-Kiev evangelicals decried the force used against demonstrators in Minsk and Moscow on 24 March. But massive force was also used against demonstrators at the US-American Democratic and Republican National Conventions during the summer of 2016. In February 2011, the retired CIA-operative Ray McGovern was beaten bloody and jailed for silently turning his back on Hillary Clinton as she was giving a speech in Washington. One is reminded of the street battles during the Civil Rights movement a half-century ago. One violence does not justify the next, but it does put matters into proper perspective.
Supposedly, it is proper for Ukrainian evangelicals to fight for their Kiev government – Russians on the other can only oppose. Yet how is this Ukrainian position more Christian than the other way around? I do not see any logic, any sense of fairness here.
Western-style democracies support religious freedom and usually leave the Jehovah's Witnesses in peace. But sadly, Western democracy rarely puts a brake on belligerent foreign policy. The USA has racked up incredible amounts of moral guilt through its foreign interventions since WW II. In a film created for a black-tie dinner on 24 March 2004, then-president George W. Bush poked fun at himself by looking under the furniture in his office for the missing weapons of mass destruction. The families of the war dead in the US and Iraq (over half a million dead Iraqis) didn't get the joke. False pretexts are the usual means for starting foreign interventions – I "remember the Maine" of 1898. One thinks too of Radio Gleiwitz in 1939.
In his BBC interview on 6 March 2017, former Ukrainian Prime Minister Arseniy Yatsenyuk vowed that his forces would be fighting to the end to liberate their eastern Ukrainian homeland. (I have heard Ukraine evangelicals claim the same.) Yet the rebel armies of Donetsk and Lugansk also claim to be defending the mother turf, which is also true. At least it is true for those soldiers stemming from eastern Ukraine, which is the majority. This conflict is crying for diplomats, not hot-headed warriors. Minsk II and other compromises are the only possible means of exit.
Gennady Mokhnenko has a big heart for orphans and one can only salute him in that regard. But in other realms, he and the like-minded have strayed from the message of Christian peace. Sometimes only with toy weapons, Mokhnenko is teaching his children the art of warfare.
Of course, this issue is not strictly a Protestant one. Filaret, Patriarch of the renegade Orthodox Kiev Patriarchate, is no less nationalist. Indeed, Ukrainian Protestants are hardly more radical than their North American mentors. The anti-Russian hawk and US-Senator John McCain sometimes describes himself as a Southern Baptist. His fellow senator and compatriot Lindsey Graham is an Independent Baptist from Seneca/South Carolina.
For occasional visitors to the US like myself, watching or listening to mass media can be a traumatic experience. In February 2017, WSMR, a Christian radio station in Sarasota/Florida, was advertising for both a gun store and the Salvation Army during the same programme. Talk shows, some of them Christian, have blasted Barack Obama as a "wimp" on foreign policy. Yet, according to some tallies, Obama and his neoconservative allies were responsible for the dropping of over 26.000 bombs on seven countries during 2016 alone.
We evangelicals – see for ex. Franklin Graham - are not above the fray, not beyond the divide which is tearing the US apart. US-America's young appear heavily anti-Trump and "liberal"; we have already lost millions of them for the cause of the church.
Great powers such as the SU have always tended to preach: "Do not do as I do, do only as I say." US-Journalist Mark Ames spent the 1990's in Moscow. You can hear him describe the massive US involvement in the Russian presidential elections of 1996 under: https://www.youtube.com/watch?v=-3Aajppo5Zk. And here's the cover of "Time" magazine from 15 July 1996:
The On-Going Revision of Recent History
Currently, political discourse on "rightism" and "fascism" is rampant. The appearance of a Croatian state in May 1991 brought with it an upsurge in revisionist history. According to the fascist interpretation, the Western powers fought WW II on the wrong side – they should have been allied with Nazi Germany. (This is the position of Arseniy Yatsenyuk.) Indeed, the issue of the appropriate ally had already been livid in the West during the 1930's. Today, significant movements in Western-allied countries such as Croatia, Latvia and Ukraine are pushing this pro-fascist interpretation.
Due to madly inflationary usage of the term, one should label persons and movements as "fascist" with caution. Yet it is painful when the Baptist politician and youth worker Pavlo Unguryan accepts a medal from Andriy Parubiy, chairman of Ukraine's "Verkhovna Rada" parliament. Parubiy, who jointly with Oleh Tyahnybok founded the country's "Social-Nationalist Party" in 1991, fits the definition of "fascist". 

Granted, Parubiy is apparently also a friend of Canada's liberal prime minister, Justin Trudeau. Trudeau's new foreign minister is Chrystia Freeland; her maternal grandfather, Michael Chomiak (1905-84), had been a collaborator and editor of a Ukrainian pro-Nazi paper in war-time Cracau. He emigrated to Canada in 1948. Of course, Ms. Freeland cannot be faulted for the deeds of her grandfather - only for defending him in the present. She owns a flat on Kiev's Maidan and is banned from entering Russia, a measure she describes as an honour.
The Kremlin on the other hand associates with far-right (and leftist) populist movements: Germany's AfD, the French Le Pen, the Dutch Wilders and sometimes Donald Trump. These populist movements can rarely be accused of calling the WW II-alliances into question, but we have reason enough for great caution in both cases.
Here's a worst-case scenario: The Cold War heats up badly. Russia responds by repressing its Protestant minorities, which it regards – sometimes justifiably - as the lengthened arms of foreign, Western influence. Western evangelicals respond with major protests, accusing Russia of an anti-religious bias and indirectly adding ideological fuel to the arms race. That's pretty much what happened in the decades following 1947. In both the past and current cases, the West has ignored the fact that the Russian response was prompted in part by the attitude of their own Western churches towards Russia.
There does not appear to be much resistance to a repeat of this scenario. We need new Bonhoeffers to smash the spokes of the wheel before the big crash.
William Yoder, Ph.D.
Smolensk, 30 March 2017
A journalistic release for which the author is solely responsible. It is informational in character and does not express the official position of any church organisation. This release may be reprinted free-of-charge if the source is cited. Release #17-02, 1.189 words.