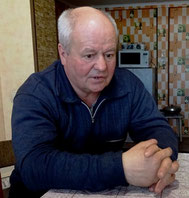 America in the Russian Far East
----------------------------------------------------
The remarkable humanitarian efforts of Alexander Kaiser
G v a r d e i s k – When a Russian-Orthodox region advertises a search for new settlers, it is often least happy to bless the arrival of Pentecostals. This is true also for the Amur region north of Blagoveshchensk, which is located directly across the river from China. There, it's not only Orthodox believers who express reservations: A congregation belonging to the "Novoe Pokolenie" (New Generation) movement has repeatedly produced negative headlines there. This denomination, founded by a Russian in Riga/Latvia in 1989, supports an especially radical form of Charismatic faith. Due to theological differences, only a few of its congregations can slip under the cover of the legally-sanctioned "Associated Russian Union of Christians of Evangelical-Pentecostal Faith" (ROSKhVE).
Yet in Belogorsk, located to the north of Blagoveshchensk and directly on the Trans-Siberian rail line, the Pentecostal lay preacher Alexander Kaiser is trashing all stereotypes. His rehabilitation centre cooperates closely with an Orthodox nunnery: They give each other groceries and used clothing. The rehab centre's residents lend a hand with the nunnery's building projects. The centre's chapel – the ministry goes by the name "rehabilitation centre" (Istochnik Zhizni) – has burned out twice. That's why it now sports a classy couch donated by an Orthodox priest. The centre's director has only kind words for his Orthodox neighbours: "We've been cooperating with this priest in the city of Belogorye for eight years now. He's a very good person."
The municipal authorities have also gotten on-board: The mayor makes an annual contribution. Even Russian President Vladimir Putin made a donation in 2014 amounting to several hundred thousand roubles. The centre, founded in 2004, works not only with substance abusers; the chronically ill, dying, rejected and homeless can also find long-term shelter there. Thanks to Orthodox support, the centre was able to take over a former school building in Blagoveshchensk in 2016. It now serves as a hospice. So the centre is taking on tasks for the city and police which a municipality is usually eager to pass on to volunteers.
"Moscow is far" (4.790 miles to be exact) und "Source of Life" feels no repercussions from the repressive "Yarovaya-Laws" legislation adopted in 2016. Integrity and goodwill appear to guarantee positive responses from the initially doubtful.
"Source of Life" is now active at three locations: Besides the 60 residents on the western fringe of Belogorsk, another 45 reside in the village of Voronsha to the north-west. The hospice in Blagoveshchensk (the city name means "Good News") is usually home to 50 patients. "The numbers remain stable", the Director assures. "We usually have roughly 150 total residents."
Kaiser is happy to announce that his work can point to relatively high success rates: Approximately 20% of all substance abusers are able to kick the habit permanently. He compares that number with those of a guest from Australia. Despite major financial support from the state, only 2% of the clients in this Australian institution come clean long-term. "Source of Life" receives no regular, on-going support from government sources.
"We've already celebrated 45 weddings," the Director announces. Many of the couples have become parents. He remains convinced that rehabilitation efforts without faith are impossible. "Without faith, nothing works out – nothing will succeed without Jesus." The three locations have a total of 13 full-time workers, all of whom are former junkies or alcoholics. Kaiser too was an alcoholic for 15 years. "All of the staff are our own people. They understand best the temptations and pain of the addict. Becoming a believer is always a process," the Director adds. "Sometimes it will take only a year, but often five to 10 years are needed. Each person needs to find his own personal route."
During the first year, the client is expected to live and work strictly on the grounds. During the second year, he/she is allowed to live and work off-campus. Each resident is expected to contribute to one's own upkeep as best possible – which applies also to the deaf and blind.
The centre in Belogorsk has 60 hectares (148 acres) of farmland. Vegetables, soya and potatoes are among the staples. Eighty pigs, 20 cows and 500 geese are also part of the menagerie. Building construction is a further activity for residents.
Alexander Kaiser sees finances as his chief worry. Although the government on one hand makes occasional contributions, it also imposes fines when building codes are not kept. The houses receive no foreign funding and their director has no eMail address, no webpage and no business card. Besides Orthodox circles, it's the 33 Pentecostal congregations belonging to the "Northeastern Union of Evangelical Christians" (SVSTsEC in Russian) which produce the most donations. This union is located under the umbrella of the Moscow-based ROSKhVE – not Novoe Pokolenia.
A parting of the spirits
Born in 1961, this Russian-German spent 25 years of his life in the frigid regions of Yakutia; Kaiser also was converted in the city of Neryungri/Southern Yakutia. In 2003, the Pentecostal congregation at that location dispatched him as a missionary to Belogorsk, 1.000 km to the south.
He describes a visit with relatives living in Germany to a village which in the 18th century sent off 30 members of the Kaiser clan to Russia. "They didn't come here only to work", he assures. "They also wanted to preach the Gospel. So how can I leave if my ancestors came here for the express purpose of preaching God's Word?" Their mandate and mission have never expired.
Alexander Kaiser assures that he cannot do otherwise than to commit his life to aiding the needy. He can barely imagine a faith without service to the weak. Yet he at the same time does not want to judge those retaining another understanding of the faith. At least until now, Baptist circles have not contributed to his work.
Passionate efforts force a parting of the spirits. Two years ago, the large congregation on the grounds suffered a division. Seventy members chose to no longer endure the chaos and ruckus caused by the junkies and needy – they had already been through two house fires. So they transferred to another congregation where life seemed quieter and more pleasant. A good 130 members remain. "That was OK," the tolerant Kaiser insists. "We are still co-operating."
Sadly, the spirits have also parted within Kaiser's own family. His spouse had gotten her fill and moved with both nearly-grown children to Vancouver in British Columbia several years ago. He does not assume they will ever return to the Far East. "This is my America," the remaining family member insists.
Alexander Kaiser und his project can be reached via Whatsapp and the mobile number +7 924 681 1536, yet he speaks only Russian. A bit more information in Russian can be found under the address "map.drevolife.ru/org/4653".
William Yoder, Ph.D.
Berlin, 13 November 2018

A journalistic release for which the author is solely responsible. It is informational in character and does not express the official position of any church organisation. This release may be reprinted free-of-charge if the source is cited. Release #18-12, 1.118 words