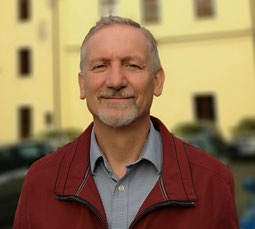 Gottfried Hain in Polish Gubin on 4 Oktober 2021. Photo taken by W. Yoder.
Guben and Gubin are Becoming One City
Commentary
L a d u s h k i n -- A visit to Poland's eastern and western borders is a study in contrasts. Or more precisely: The contrast between Polish crossings into Germany and those into Russia. In the German-Polish twin city of Guben/Gubin on the Neisse River, there is no visible border at all as of October 2021. Germans eat or shop in Gubin freely without impediment; there are joint kindergartens and many Poles work in Germany. The two mayors of the twin city occasionally stand in for each other at public meetings.
When this border was suddenly closed by Corona in March 2020, Poles were rattling the temporary fence and demanding entry within a few weeks. "It was a situation like the building of the Berlin Wall," Baptist lay preacher and congregational head Gottfried Hain asserts. "It was inhumane to impose the Corona barrier without consultation or warning. It was an impossible situation unreflected beforehand by those responsible. The protests were completely justified." Hain recounts that a colleague at the time, a Polish doctor, had to contend himself with waving to his wife over the fence. According to Hain, this protest was not primarily an ethical issue - the neighbours are dependent on each other for their economic survival. Labour is needed on both sides of the border.
In stark contrast, silence holds sway on the border between Braniewo/Poland and Mamonovo/Russia in the enclave of Kaliningrad. No fence has been rattled there. The once-lively private trade between Poles and Russians was broken off in 2016 with the suspension of special visas for the residents of border areas. Because of Corona, the popular "Mamonovo 1" crossing was closed, perhaps forever, in March 2020. The almost new, still active crossing "Mamonovo 2" is located 10 km further east. But this detour is no issue for the vast majority of citizens: To date, private or tourist traffic is only possible by air via Moscow or St. Petersburg.
Any logically-thinking Martian guest would be taken aback by this contrast, for both Poles and Russians are Slavs. With effort, they can comprehend each other in their own language – similar to a conversation between Germans and Dutch. The German-Polish border, on the other hand, is an almost brutal language barrier. In addition, the ideological views of the conservative PiS "Law and Justice Party" governing in Warsaw are much closer to the Russian world view than the liberalist, gender-centred convictions of the West.
On one border, Warsaw stokes fears, on the other, it exudes warmth. Hain notes: "You can easily generate fear if your neighbour is poorer – fear that the poorer party has designs on your wealth. That is happening now on the border with Russia." In August 2019, I asked worshipers at the Elblag (Elbing) Baptist Church how many of them had already visited Russia. Of the roughly 50 present, three raised their hands. They warned me of crime and other dangers in Russia - similar to the way Germans traditionally talk about Poles. Elblag is 50 km south of the border with Russia.
My comment: The differing conditions on the two borders is due in part to the fact that Poles and Russians are Western and Eastern Slavs respectively. Since 1990, it has been shown time-and-again that "Western" checks "Slavic" - see, for example, the foreign policy and cultural preferences of the Western Slav Croats, Slovenes and Czechs.
But Gottfried Hain, who himself was mayor of Guben from 1994 to 2002, does not want to exaggerate the ideological divide. He has an economic explanation: "Poles and Germans have a common interest in material well-being." They have material expectations only of Germany. Therefore, "the incentive for Poles to learn German is greater than vice versa".
Hain adds that Germans who made an effort to reach out to Poles after the fall of communism are disappointed in part because of the lack of gratitude. "But I myself am not particularly disappointed, because I know there was also disappointment among West Germans. After 1990, West Germans got the feeling that East Germans were only concerned about the D-Mark; that East Germans thought only with their bellies and wallets, not with their hearts. When that occurs, the process of reconciliation takes longer."
The former mayor describes the appeal of the PiS as economic - voters most readily expect material well-being from it. "I trust in the Poles' love of freedom," he adds. "In the border regions, people are pragmatists. They don't care which party the mayor belongs to." Obviously, PiS and the electorate are not on the same ideological wave length: Recent polls show that 90% of the Polish population favours remaining in the European Union.
Is the process of reconciliation between Germans and Poles therefore complete? If so, then the international encounter centre planned for Szczecin Baptist Church, for example, is dead-in-the-water before it is completed. "Not at all," Hain counters. "A wall is still there and you feel it when things go awry. Clichés remain and you notice that when your Polish colleague is late for work." But this lay preacher is against moralistic sermons in such instances: "You have to take it with humour - our mentalities are indeed a bit different." The German invasion of 1939 has not yet been fully digested. Hain quotes a passage that occurs repeatedly in the Old Testament: a jealous God who "visits the iniquity of the fathers on the children to the third and the fourth generation" (Exodus 20:5).
Gottfried Hain believes it is usually committed individuals who bring the conversation between Germans and Poles forward. Through cultural exchanges, for example, one could repeatedly lure people to venture beyond their own "comfort zones".
Personal matters
Gottfried Hain was born in November 1956 near Zabrze (Hindenburg) in Polish Upper Silesia. But at the ripe old age of three months, he moved with his parents to Luckau just south of Berlin. He first took up residence in Guben in 1973 when he began an apprenticeship at Guben's chemical fibre plant. Later, he became a male nurse and then studied theology for two semesters. After being called up for non-combatant army service, he returned to nursing. After being voted out of office as mayor in late 2001, he obtained a position at the conservative and independent Lutheran "Naëmi-Wilke-Abbey" (Stift) in Guben and was soon appointed administrative director of its hospital. He retired in this capacity at the end of 2020. He and his wife Juliane are the parents of 11 children - four of whom were regarded as foster children.
As mayor, Hain contributed significantly to the convergence of the city's two halves. He attributes his election loss to the fact that voters expected the Liberal party's candidate (FDP) to attract more jobs to their economically-struggling region. Gottfried Hain generally knows a lot about reaching across borders. As a Baptist, he was administrative head of an Old- Lutheran (SELK) hospital. As a pensioner, he now sometimes serves as a catechist in the United (Lutheran and Reformed) Church of Berlin-Brandenburg.
Gottfried Hain traces the beginning of his commitment to an understanding with Poles back to his own grandfather. Around 1976, he and his grandfather rang the bell at the house in Zielona Góra (Grünberg) that his grandfather had built with his own hands during German times. After coffee with the host, the grandfather prayed aloud for the well-being of the people who now lived in the dwelling. "He asked God's blessing for those who lived there. There is no need to talk about reconciliation when it has already taken place."
William Yoder, Ph.D.
Ladushkin, Kaliningrad region, 18 October 2021
A journalistic release for which only the author is responsible. It is informational in character and does not express the official position of any church organisation. This release may be reprinted free-of-charge if the source is cited. Release #21-20, 1.251 words.